SALE! Change your scenery!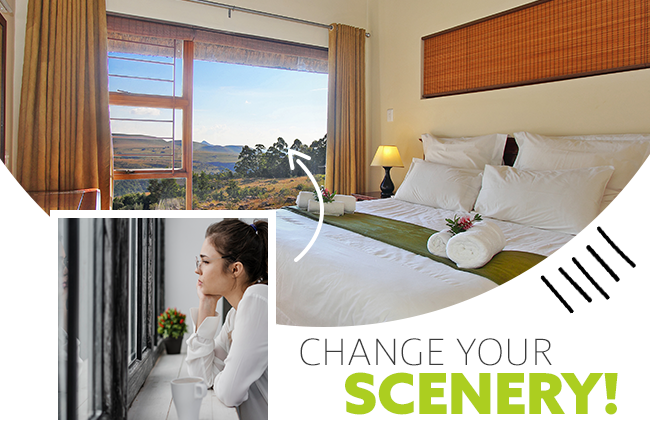 Regulations, restrictions, guidelines and so much more!!! These are just some of the words we have all gotten to use in our new 'normal' lives, and YES, they are there to keep us safe… not just to expand our vocabulary. So with all the current regulations, restrictions and guidelines, we know that by now you are tired of your living room, the view from your balcony and even the colour of your walls, soooo
we have a 'never-to-be-repeated', 'too-awesome-to-believe-it',
'change-your-scenery-now' SPECIAL just for you!
12-22 JANUARY 2021
VALID FOR OCCUPATION BETWEEN
15 JANUARY - 26 FEBRUARY 2021

*OFFER EXCLUDES CHECK-IN ON 26 FEB 2021 & PRIVATE OWNER WEEKS
(THE UNITS THAT ARE HIGHLIGHTED IN BLUE ON OUR WEBSITE ARE PRIVATE OWNER WEEKS)
FULL WEEK
R 2021.00
HJ7QYD3VSU

WEEKEND
R 1515.00
PTVA2TMAS8

MIDWEEK
R 717.00
DU18RUMM5G
| | | |
| --- | --- | --- |
| | Even though some facilities / activities / attractions might be closed, imagine yourself having a true South African style braai, that is not in your backyard? Or just enjoying the fresh breeze blowing through your hair while you relax on the balcony? Well imagine it, 'cause it can be you! | |
COVID-19 NOTICE:

The Resort will have to operate as per the Covid-19 Protocols as set by government.


There will be limited services and/or facilities.


Take note that in terms of current regulations, the wearing of a mask when entering a public space, is mandatory. Accordingly clients who fail to adhere to this regulation will not be permitted to enter the premises.


Security will, upon arrival, measure the temperature of each and every individual occupying the vehicle. Should any occupant's temperature measure above 37.8, the vehicle will not be permitted to enter the premises.


All persons on the resort must comply with the regulations and directions as issued from time to time during this state of national disaster and the resort reserves the right to request/demand that you leave the premises should you refuse to adhere to the regulations and directions as issued, whether by way of law enforcement or not.



Please be aware that Government regulations in regards to Covid-19 operations may change at any stage.

Your holiday reservation can be booked Online, or through our Call Centre:
www.gomelo.co.za | +27 (012) 996 5120 | info@gomelo.co.za
Terms and Conditions:

All reservations to be booked between 12-22 January 2021. Special offer will only apply to reservations
with an occupation date between 15 January – 26 February 2021 (Excluding check-in 26 February 2021).
All accommodation and sleeper sizes are subject to availability and will be booked on a first come first
serve basis. Private Owner Weeks are excluded from the special. No other discount vouchers to be used.
No on-renting of accommodation permitted. No Guest Certificates will be issued on any reservations
booked on the special. Standard Cancellation policy will apply to all reservations. Reservations can be
made through the Gomelo Call Centre, or on the Gomelo website using the online voucher codes. Should
the system be manipulated we have the right to refund you, cancel your booking and block your file.
Should you get a system error, and additional discount has been applied, we have the right to amend your booking and hold you liable for the amount outstanding. All discount vouchers may only be used once
per holiday booking made with Gomelo. Should discount vouchers be used more than once on a booking,
we have the right to investigate the matter and take action accordingly. The file holder will be held
responsible for any bookings made on the file. Standard Gomelo terms and conditions apply.
Fri 15 Jan 21